Tehlrog Castle is a castle belonging to the Kingdom of Nords. It is featured in both Mount&Blade and Warband.
Mount&Blade
Edit
Tehlrog Castle lies to the southwest of Sargoth on the border with the Kingdom of Swadia, lying closer to Suno than any Nordic Towns.
Its village is Ambean which is to the northwest.
Tehlrog Castle lies southeast of Sargoth between the two rivers flowing through Nordic territory. It is on the border with the Kingdom of Vaegirs.
Its village is Vayejeg which is to the southeast, resting in the middle of one of the snaking river bends.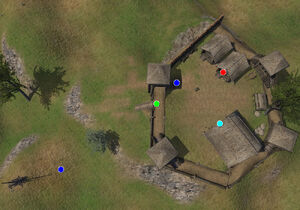 Player 

Keep 

Dungeon 

Breach
Besieging Tehlrog Castle requires the construction of Siege Ladders, needing up to 9 hours of preparation with 0 Engineer.
Tehlrog castle's design is similar to a motte-and-bailey fort, featuring wooden buildings in an open courtyard atop a walled-in hill.
Community content is available under
CC-BY-SA
unless otherwise noted.