This wiki has too much articles, you have to delete some :p --82.83.232.201 02:51, 3 October 2008 (UTC)
Chicken chicken ... chicken?
[
]
What's the point of the video at the bottom? -- Carralpha 07:08, 31 May 2009 (UTC)
Well done for replacing it with a trailer for the game. That looks much better, -- Carralpha 10:52, 31 May 2009 (UTC)
The video was fun, but nonsense :) I found that trailer on youtube, it shows many aspects of the game instead of combat only. --Evil genius93 11:43, 31 May 2009 (UTC)
Replacing image
[
]
What abount replacing
51Gjngsr21L SL500 AA280 .jpg
with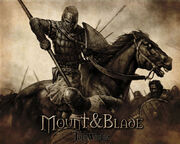 ? --Evil genius93 12:13, 31 May 2009 (UTC)
Good idea. -- Carralpha 13:41, 31 May 2009 (UTC)
Mount & Blade: Ogniem i mieczem
[
]
A Mount & Blade spin-off has been announced - M&B: Ogniem i mieczem, published by CD Projekt and aimed at the Polish market, although it might get released internationally later as well. Will this wiki also cover it? It's based on historical novels by Henryk Sienkiewicz. See: http://www.rpgwatch.com/forums/showthread.php?t=8038 http://www.youtube.com/watch?v=UUbvxqRpebM Ausir(talk) 19:20, September 5, 2009 (UTC)
Probably - a spin-off of the game would fall into the Mount&Blade category. -- Carralpha 15:24, September 6, 2009 (UTC)
World map
[
]
Does anyone else think it would be useful to upload a picture of the word map? 203.52.130.138 00:13, September 30, 2010 (UTC)
I will upload it —Preceding unsigned comment added by Switchblade1250 (talk • contribs)
That is not necessary, we have images of the world maps for all three M&B games now.
◄► Tephra ◄► 03:29, December 16, 2012 (UTC)
Record Poll Results
[
]
I just noticed the new poll. How about recording the result of past polls, maybe in Mount_and_Blade_Wiki/Past Polls?
Flaviojs 00:18, February 11, 2012 (UTC)
Yeah, I kind of thought this too, but was too lazy. Anyway,

it is done

. ◄► Tephra ◄► 00:45, February 11, 2012 (UTC)
fail poll... whoever made it forgot to put in Vaegirs... iadfusghiuhafsd —Preceding unsigned comment added by 75.73.114.111 (talk • contribs)
Lenopow made this one, but it isn't really that big of a deal, these polls are just for fun.
◄► Tephra ◄► 07:39, May 15, 2012 (UTC)
Poll Chooser
[
]
Who decides the polls? Fire-lord; Pyrokinetic Jedi If no one ever talks things out how can we have world peace? File:Soresu.jpg 01:46, July 18, 2012 (UTC)
You can see who created each poll on the

Past Polls

page. So far it has just been me and Lenopow.
◄► Tephra ◄► 07:44, July 18, 2012 (UTC)
Viking Conquest Ships
[
]
It would be nice if someone could add a page with a table for the various ships available in the Viking Conquest DLC, with their pics, like was done on the horses page. I'd do it, but I don't know how. CarlinB (talk) 15:39, February 11, 2015 (UTC)