Sargoth is the capital city of the Kingdom of Nords and a fief initially owned by King Ragnar. It hosts the normal town functions.
Sargoth is one of the oldest towns. It has been present since the first version of Mount&Blade. It also used to have a tavern called the "Thirsty Lion". In these previous versions, it was a part of the Kingdom of Swadia, although it should be noted that these early versions are no longer canonical.
Territory
Edit
Mount&Blade
Edit
Its villages are Fearichen, Kulum, and Kwynn.
Its villages are Ambean, Fearichen, and Fenada.
  Accessible area 
  Player
  Guild Master
  Keep
  Dungeon
  Tavern
  Merchants
  Arena
The Guild Master in Sargoth can be located immediately behind and to the left of the player when 'Take a walk around the streets' is selected.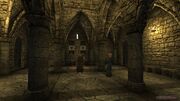 Besieging Sargoth requires the construction of a Siege Tower in Mount&Blade or Ladders in Warband.
Tournaments
Edit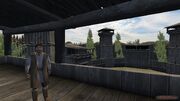 Tournaments hosted in Sargoth feature:
Axe & Shield
Sword & Shield
Heavy Sword
None of the participants are on horses.
King Ragnar himself is known to participate in this tournament often.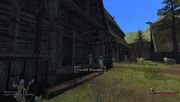 Sargoth produces:
Community content is available under
CC-BY-SA
unless otherwise noted.