Roblox: DeepWoken - The Loop
Play Sound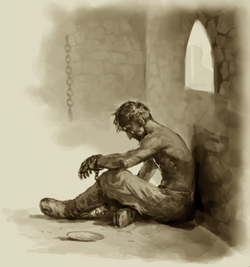 Prison Towers are constructible additions for Castles and Towns that decrease the chance of noble prisoners escaping. Ordinary soldiers cannot normally escape from dungeons, so the Prison Tower has no effect on them.
Captured lords will attempt to escape every 48 hours. If you are holding them in your party, their success rate is 50%. In a castle or town without a Prison Tower, it is 30%. Prison Towers reduce that to a mere 5% (10% in With Fire & Sword), making escape difficult.
Prison Towers use your skill in Engineer to determine how much money and how long it takes to be built.
Construction
[
]
| Engineer | Denars | Days |
| --- | --- | --- |
| 0 | 7000 | 73 |
| 1 | 6650 | 69 |
| 2 | 5300 | 66 |
| 3 | 5950 | 62 |
| 4 | 5600 | 59 |
| 5 | 5250 | 55 |
| 6 | 4900 | 52 |
| 7 | 4550 | 48 |
| 8 | 4200 | 45 |
| 9 | 3850 | 41 |
| 10 | 3500 | 38 |
| 11 | 3150 | 34 |
| 12 | 2800 | 31 |
| 13 | 2450 | 27 |
| 14 | 2100 | 24 |