Matheld is a Nord warrior and one of the companions in Warband. She is the most expensive hero with the max cost of 500 denars.
Biography
[
]
She is a Nord woman living in the Northern lands (the Nord homeland). She is the daughter of a thane and is married to another thane where they fought together. Her husband died of a plague and inherited his lands under his will, but her brother in law dislike women ruling a thane and bribe the servants to overthrow Matheld. She forced to flee to Calradia and hope to collect enough money to raise an army to reclaim her rightful inheritance.
Personality
[
]
Relationships
[
]
Firentis -
Nizar -
Ymira -
Gameplay
[
]
If elevated to lordship in Warband, Matheld will recruit Nords to fight under her and in her fiefs.
Dialogue
[
]
Main article: Matheld/Interactions
Stats and equipment
[
]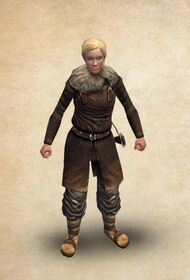 Matheld - Default Stats and Equipment
Attributes

| Stat | Points |
| --- | --- |
| Level | 7 |
| Strength | 9 |
| Agility | 10 |
| Intelligence | 9 |
| Charisma | 10 |
| Health | 46 |
Skills

| Skill | Points |
| --- | --- |
| Ironflesh | 1 |
| Power Strike | 2 |
| Power Throw | 0 |
| Power Draw | 0 |
| Weapon Master | 3 |
| Shield | 1 |
| Athletics | 3 |
| Riding | 2 |
| Horse Archery | 0 |
| Looting | 0 |
| Trainer | 0 |
| Tracking | 0 |
| Tactics | 1 |
| Path-finding | 0 |
| Spotting | 0 |
| Inventory Management | 2 |
| Wound Treatment | 0 |
| Surgery | 0 |
| First Aid | 0 |
| Engineer | 0 |
| Persuasion | 0 |
| Prisoner Management | 0 |
| Leadership | 3 |
| Trade | 0 |
Proficiencies

| Weapon Type | Points |
| --- | --- |
| One Handed Weapons | 90 |
| Two Handed Weapons | 90 |
| Polearms | 90 |
| Archery | 90 |
| Crossbows | 90 |
| Throwing | 90 |