Lady Thera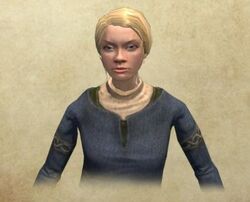 Lady Thera is a noblewoman initially of the Kingdom of Nords. She is 19 years old.
Parents: Jarl Reamald, Lady Eir
Siblings: Jarl Dirigun

Note: Certain aspects of most NPCs are randomly generated at the beginning of every new game. These include all family lines other than the parents and siblings of young NPCs, or children of older NPCs; personalities; and initial fief ownership.