Kwynn

Type

World Map
Kwynn is a village of the Kingdom of Nords.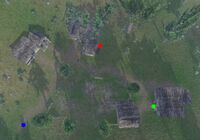 The
Village Elder
is located between the two buildings up the hill to the right from where the player enters, standing next to a woodpile and stool.
Kwynn is set on very uneven terrain, with many hills of inconsistent heights, as well as a large number of trees and shrubs. It has a total of five structures and a large, but very decrepit, stone wall in the middle of the village. There is an apple tree farm here and the numerous empty baskets strewn throughout the village implies it plays a significant role, but an invisible barrier makes it inaccessible to the player.
If sent here during a Hunt down fugitive quest, the target may be found next to a woodpile on the right side of the apple farm.