Ivan Barabash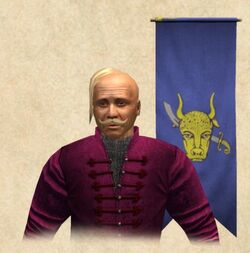 Ivan Barabash is the claimant to the Cossack Hetmanate.
He is based on a real person who was a Military Yesaul who lived in the late 1600's and headed the cossack diplomatic mission to the Polish Royal Court. He opposed Bogdan Hmelnitski's support for the Polish king Wladyslaw's (before Jan Kasimir) war against the Crimean Khanate.
The historical Ivan Barabash was executed in 1648 after the Battle of Zhovti Vody for supporting the Polish rulers.
His relative, Yakiv Barabash, became the Host Ataman of the Zaporozhian Sich in 1657, and together with Martin Pushkar opposed the reign of Hetman Ivan Vyhovsky. The claimants' rebellion, however, was without success and in 1658 Barabash was executed at Vyhovsky's court.
In the novel With Fire and Sword, Hmelnitski invites Barabash to a dinner, and during this visit Hmelnitski sends agents to steal documents from Barabash's home.
Community content is available under
CC-BY-SA
unless otherwise noted.