Former Queen Christina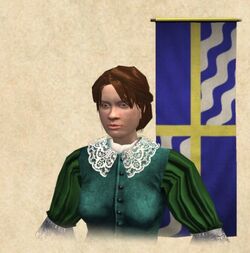 Starting Information
Kingdom
Kingdom of Sweden
Monarch
King Carl Gustaf
Title
Claimant
Character Information
Gender
Female
Christina is the Claimant to the throne of Sweden.
Biography
Edit
Christina is the only Daughter of King Gustaf II Adolf, and Maria Eleanor of Brandenburg. As the future Queen, Christina received the best Education possible. She learned Seven languages; German, Dutch, Danish, Italian, Spanish, Greek, and Latin. At the age of twelve, she had already understood politics and the Art of war. Soon to become queen, she chose Carl Gustaf to be her heir. But Carl did not desire to wait to be on the throne. Carl took control of the Swedish army, and forced Christina off the throne.
She is based on a real person who ruled Sweden from 1632-1654.
She succeeded her father as ruler at the age of 6, when he died at the Battle of Lutzen.
She caused a scandal when she abdicated her throne and converted to Catholicism in 1654.
Christina is one of the few women buried in the Vatican grotto.
Even after you give her the Throne, interestingly, Her name still appears as "Former" Queen Christina.
Community content is available under
CC-BY-SA
unless otherwise noted.