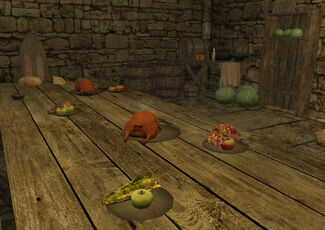 Food is very important for your party. Each type of food which you have in your inventory gives your party morale, and consequently, if you run out of food, you will lose morale. Food can be bought at goods merchants in towns, or from the Village Elder at villages. Gradually, your party will eat the food, reducing its quantity.
Consumption
[
]
Your party will eat every 14 hours, with every unit of food quantity feeding 3 troops. In With Fire & Sword, these numbers have been adjusted slightly to every 6 hours and 10 troops per quantity.
If you have multiple types of food in your inventory, your party will split the consumption between the available foods. So if you have 15 men (needing 5 quantities of food), and had one item of Bread and one item of Smoked Fish, then it will be split between the two items as evenly as possible. For example, consuming 2 quantities of bread and 3 of fish.
Quality
[
]
Certain foods are perishable. In classic Mount&Blade beef goes 'rotten' after five days, making it inedible. In Warband, pork and chicken are also affected by deterioration, though it takes a total of six days. The stages are:
[Meat] (Warband only)
Fresh [Meat]
Day-old [Meat]
Two Days-old [Meat]
Smelling [Meat]
Rotten [Meat]
Despite the degradation of the food, the morale bonus does not decease until the meat is fully rotten, at which point it is no longer edible. Food that can rot is best used when traveling with a large army, where its large morale bonus is most useful and where it can be consumed before it spoils. Though it is possible to sell rotten food elsewhere, it returns little money and is best discarded if the player has just finished a battle in the field, in order to make space for captured items, which the player can use for himself, or get even more money by selling.
List of Food
[
]
The following is a list of foods that appear in each game.
Mount & Blade
[
]
Warband
[
]
In Warband, some foods can be used as a raw ingredient to make other food or trade goods through a productive enterprise.
With Fire & Sword
[
]
Viking Conquest
[
]
Unobtainable food
[
]
Some foods exist as objects in the environment and cannot be obtained or eaten. These are most often seen in taverns, but may also decorate keeps and villages.