Firentis

Likes

Dislikes

Noble

yes
Firentis is one of the heroes of Calradia and a Swadian noble. Firentis is the only noble hero that can be hired for free.
He is ashamed of killing his brother over a temptress in a drunken rage. He will join for free, to "...right wrongs, fight oppressors, redeem yourself, that kind of thing." He has a few initial combat skills and can function well either as an infantryman or a cavalryman. When you stumble upon Suno, he will tell you about the vale yonder and the inability of Swadians to forget an insult (which led to his brother's death at his hand) and say that he does not want to see his family there. He then waits outside of the gates until you come back.
Firentis finds a close friend in Jeremus, as the two share a dislike for the killing they have to do and seek to have Calradia eventually have peace. He dislikes Nizar due to the latter's habit of insulting enemies and hubris, while Katrin treats him as an object of superstition for his kinslaying, something which irritates him due to seeking redemption for such.
If elevated to lordship, Lord Firentis will hire Swadian troops to fight for him.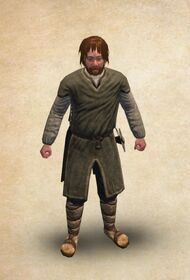 "I have commited [sic] the greatest of sins, (sir/madame), and it is to my shame that I must appoint you my confessor, if you should like to hear it."
"I was a captain of horse in the service of the lord here in (town), and my brother served with me. But we were both in love with the same woman, a courtesan -- a temptress, who played upon our jealousies! My brother and I quarreled. I had drunk too much. He slapped me with his glove, and I spit him upon my sword... My own brother! My sword-arm was stained with the blood of my kin!"
"Do you believe there is hope for a man like me? Can I find the path of righteousness, or am I doomed to follow the demons that dwell inside of me?"
Stats and equipment
Edit
Firentis - Default Stats and Equipment
Attributes

| Stat | Points |
| --- | --- |
| Level | 6 |
| Strength | 10 |
| Agility | 12 |
| Intelligence | 10 |
| Charisma | 5 |
| Health | 47 |
Skills

| Skill | Points |
| --- | --- |
| Ironflesh | 1 |
| Power Strike | 2 |
| Power Throw | 0 |
| Power Draw | 0 |
| Weapon Master | 2 |
| Shield | 1 |
| Athletics | 3 |
| Riding | 2 |
| Horse Archery | 0 |
| Looting | 0 |
| Trainer | 1 |
| Tracking | 0 |
| Tactics | 0 |
| Path-finding | 0 |
| Spotting | 0 |
| Inventory Management | 2 |
| Wound Treatment | 0 |
| Surgery | 0 |
| First Aid | 0 |
| Engineer | 0 |
| Persuasion | 0 |
| Prisoner Management | 0 |
| Leadership | 1 |
| Trade | 0 |
Proficiencies

| Weapon Type | Points |
| --- | --- |
| One Handed Weapons | 105 |
| Two Handed Weapons | 105 |
| Polearms | 105 |
| Archery | 105 |
| Crossbows | 105 |
| Throwing | 105 |