Count Klargus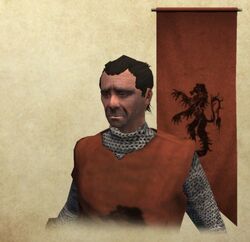 Count Klargus is initially a vassal of King Harlaus from the Kingdom of Swadia.
He is, initially, the lord of Suno. Thus, he likes to give quests involving the removal of Forest Bandit hideouts in that area.
Spouse: Lady Anna
Children: Count Beranz, Lady Nelda

Note: Certain aspects of most NPCs are randomly generated at the beginning of every new game. These include all family lines other than parents, children, or siblings; personalities; and initial fief ownership.
Stats and equipment
Edit
Count Klargus - Default Stats and Equipment
Attributes

| Stat | Points |
| --- | --- |
| Level | 41 |
| Strength | 20 |
| Agility | 20 |
| Intelligence | 15 |
| Charisma | 25 |
| Health | 67 |
Skills

| Skill | Points |
| --- | --- |
| Ironflesh | 6 |
| Power Strike | 7 |
| Power Throw | 0 |
| Power Draw | 0 |
| Weapon Master | 0 |
| Shield | 0 |
| Athletics | 5 |
| Riding | 7 |
| Horse Archery | 0 |
| Looting | 0 |
| Trainer | 3 |
| Tracking | 0 |
| Tactics | 6 |
| Path-finding | 0 |
| Spotting | 0 |
| Inventory Management | 0 |
| Wound Treatment | 0 |
| Surgery | 0 |
| First Aid | 0 |
| Engineer | 0 |
| Persuasion | 0 |
| Prisoner Management | 3 |
| Leadership | 9 |
| Trade | 0 |
Proficiencies

| Weapon Type | Points |
| --- | --- |
| One Handed Weapons | 230 |
| Two Handed Weapons | 230 |
| Polearms | 230 |
| Archery | 230 |
| Crossbows | 230 |
| Throwing | 230 |