Count Devlian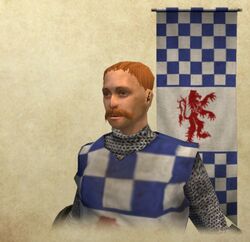 Count Devlian is initially a vassal of King Harlaus from the Kingdom of Swadia. He wields a Bastard Sword and in the other hand, a Knightly Heater Shield. His armour is Heraldic Mail with Surcoat and a Great Helmet.
Parents: Count Clais, Lady Auberina
Siblings: Lady Tibal

Note: Certain aspects of most NPCs are randomly generated at the beginning of every new game. These include all family lines other than parents, children, or siblings; personalities; and initial fief ownership.