Count Clais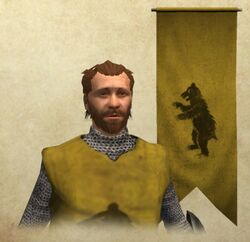 Count Clais is initially a vassal of King Harlaus from the Kingdom of Swadia. He is the Lord of Dhirim.
Spouse: Lady Auberina
Children: Count Devlian, Lady Tibal

Note: Certain aspects of most NPCs are randomly generated at the beginning of every new game. These include all family lines other than parents, children, or siblings; personalities; and initial fief ownership.
Stats and equipment
Edit
Count Clais - Default Stats and Equipment
Attributes

| Stat | Points |
| --- | --- |
| Level | 41 |
| Strength | 20 |
| Agility | 20 |
| Intelligence | 15 |
| Charisma | 25 |
| Health | 67 |
Skills

| Skill | Points |
| --- | --- |
| Ironflesh | 6 |
| Power Strike | 7 |
| Power Throw | 0 |
| Power Draw | 0 |
| Weapon Master | 0 |
| Shield | 0 |
| Athletics | 5 |
| Riding | 7 |
| Horse Archery | 0 |
| Looting | 0 |
| Trainer | 4 |
| Tracking | 0 |
| Tactics | 6 |
| Path-finding | 0 |
| Spotting | 0 |
| Inventory Management | 0 |
| Wound Treatment | 0 |
| Surgery | 0 |
| First Aid | 0 |
| Engineer | 0 |
| Persuasion | 0 |
| Prisoner Management | 3 |
| Leadership | 9 |
| Trade | 0 |
Proficiencies

| Weapon Type | Points |
| --- | --- |
| One Handed Weapons | 180 |
| Two Handed Weapons | 180 |
| Polearms | 180 |
| Archery | 180 |
| Crossbows | 180 |
| Throwing | 180 |