Fire Emblem Warriors: Three Hopes - The Loop
Play Sound
You can make camp at any time when on the map screen. Doing this allows you to perform the following actions: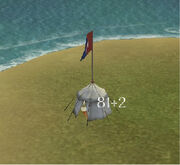 Wagon Fort
[
]
In With Fire & Sword, you also have the option to make a wagon fort. It is ideal when you have to fight a more powerful enemy on the plains. It decreases your map speed, but creates a defendable "D" shape with an entrance at the back made of carts. The size depends on the size of the army that it will contain.
A very good tactic to use would be to make all the musketeers stand ground and use ranged weapons, and order your cavalry to dismount and have them and your infantry follow you to the wagon fort entrance. It is possible to jump over the wagon fort carts with horses, but the AI does not utilize this ability, so you can use this as an advantage as the enemy will only attack from one direction and it is very hard for your units to be routed or flanked.