Arcane: League of Legends - The Loop
Play Sound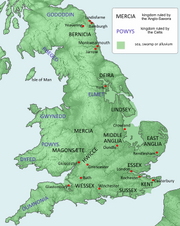 Briton is a Christian culture in Viking Conquest. There are five Brittonic Kingdoms: The Cornish Kingdom of Cornubia, the Welsh Kingdoms of Gwynedd, Glywyssing, and Brycheiniog, and the Cumbrian Kingdom of Alt Clut centred in what is now the Scottish Lowlands.
While the player does not go into any of the Briton lands for the main storyline, the Kingdoms of the Britons are usually small and not strategic places, making them easy targets for stronger factions.
Troops
[
]
History
[
]
Britons inhabited Great Britain for thousands of years and they were dominate across England. They were close relatives of the Picts of Scotland and the Gaels of Ireland. After the Anglo-Saxons settled in England in the early 5th century, the Britons were either killed, assimilated by the Anglo-Saxons, or pushed to the edges of the island, forming the countries seen in the game.