Belir Noyan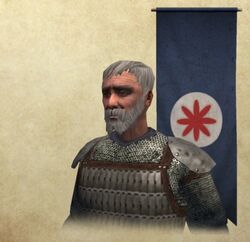 Belir Noyan is initially a vassal in the Khergit Khanate under the rule of Sanjar Khan. He is also the lord of Narra.
You may fight him or have him side with you as you help Dustum Khan, the claimant and Sanjar's brother, gain control of the Khanate.
He has gained a mild reputation due to his penchant for raiding villages, especially those of lords he does not like, even if it would require travelling across Calradia to do so.
Spouse: Lady Ravin
Children: Tansugai Noyan, Lady Ruha

Note: Certain aspects of most NPCs are randomly generated at the beginning of every new game. These include all family lines other than parents, children, or siblings; personalities; and initial fief ownership.
Stats and equipment
Edit
Belir Noyan - Default Stats and Equipment
Attributes

| Stat | Points |
| --- | --- |
| Level | 30 |
| Strength | 18 |
| Agility | 17 |
| Intelligence | 12 |
| Charisma | 20 |
| Health | 61 |
Skills

| Skill | Points |
| --- | --- |
| Ironflesh | 4 |
| Power Strike | 5 |
| Power Throw | 0 |
| Power Draw | 4 |
| Weapon Master | 0 |
| Shield | 0 |
| Athletics | 3 |
| Riding | 5 |
| Horse Archery | 0 |
| Looting | 0 |
| Trainer | 5 |
| Tracking | 0 |
| Tactics | 4 |
| Path-finding | 0 |
| Spotting | 0 |
| Inventory Management | 0 |
| Wound Treatment | 0 |
| Surgery | 0 |
| First Aid | 0 |
| Engineer | 0 |
| Persuasion | 0 |
| Prisoner Management | 2 |
| Leadership | 6 |
| Trade | 0 |
Proficiencies

| Weapon Type | Points |
| --- | --- |
| One Handed Weapons | 190 |
| Two Handed Weapons | 190 |
| Polearms | 190 |
| Archery | 190 |
| Crossbows | 190 |
| Throwing | 190 |