GTA: The Criminal Enterprises - The Loop
Play Sound
Bariyye is a town that is initially owned by the Sarranid Sultanate.
Territory
[
]
Its villages are Fishara and Iqbayl.
Layout
[
]
  Accessible area 
  Player
  Guild Master
  Keep
  Dungeon
  Tavern
  Merchants
  Arena
The Guild Master in Bariyye can be found standing outside of the tavern. He is most easily reached by going to the tavern, then leaving by the door instead of the tab key, at which point he will be directly in front of the player.
Siege
[
]
Besieging Bariyye requires the construction of Siege Ladders.
Tournaments
[
]
If you take part in a Tournament in Bariyye, you can be given any of the following pieces of equipment:
Sword & Shield
Heavy Sword
Bow & Arrows, Dagger
Javelins & Shield
Economy
[
]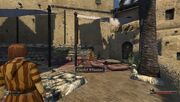 Bariyye produces:
Bariyye buys Smoked Fish, Grain, and Wine high, while it sells Dates, Dyes, Pottery, Salt, and Spice low.