Asugan Castle is a castle belonging to the Khergit Khanate. It is featured in both Mount&Blade and Warband.
Mount&Blade
Edit
Asugan Castle lies east of Tulga on the border of the Khanate territory at the base of two mountain ridges and before a long valley pass that seems to lead out of Calradia.
Its village is Peshmi, located to the northwest of the castle.
Asugan Castle is the easternmost castle on the map, it lies on a small ridge at the southeastern border with the Sarranid Sultanate between a somewhat narrow mountain pass.
Its village is Dugan, located to the north of the castle, down the hill from its ridge.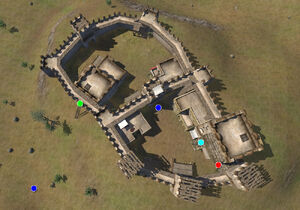 Player 

Keep 

Dungeon 

Breach
Besieging Asugan Castle requires the construction of Siege Ladders, needing up to 9 hours of preparation with 0 Engineer.
This castle shares a name with Asugan Noyan.
Community content is available under
CC-BY-SA
unless otherwise noted.