Alburq Castle is a castle belonging to the Kingdom of Nords. It is featured in both Mount&Blade and Warband.
Mount&Blade
Edit
Alburq Castle lies to the east of Wercheg on the northern coastline.
Its village is Ruvar which is to the southwest.
Alburq Castle lies southeast of Wercheg on the border with the Kingdom of Vaegirs to the east.
Its village is Jayek which is to the northwest along the coast of the bay.
The Kingdom of Vaegirs considers it stolen territory and claims that it's rightfully theirs.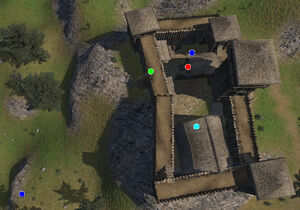 Player 

Keep 

Dungeon 

Breach
Besieging Alburq Castle requires the construction of Siege Ladders, needing up to 9 hours of preparation with 0 Engineer.
Community content is available under
CC-BY-SA
unless otherwise noted.