Fire Emblem Warriors: Three Hopes - The Loop
Play Sound
Ahmerrad is a town of the Sarranid Sultanate.
By default, it is fief to Emir Hamezan.
Territory
[
]
Its villages are Mawiti, Mijayet, and Uzgha.
Layout
[
]
  Accessible area 
  Player
  Guild Master
  Keep
  Dungeon
  Tavern
  Merchants
  Arena
The Guild Master in Ahmerrad can be located by looking behind the player when 'Take a walk around the streets' is selected. He is most easily spoken to by running along the stone dyke that his terrace is built on and talking to him over the fence.
Siege
[
]
Besieging Ahmerrad requires the construction of Siege Ladders.
There is also a destructible door, which the player can break through to get behind the enemies, on the left side of the ladder, close to the edge of the playable area.
Tournaments
[
]
If you take part in a Tournament in Ahmerrad, you can be given any of the following sets of equipment:
Lance & Shield
Sword & Shield
Heavy Sword
Javelins & Shield
Bow & Arrows, Dagger
All players will have a Turban, Arena Tunic of team colour and Hide Boots. The players will always have a Practice Horse.
Economy
[
]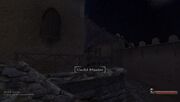 Ahmerrad sells Iron and Pottery cheaply.
Ahmerrad produces: